Hanneke Raap
Brisbane, Qld
Recently I did a wildlife workshop with Michael Snedic. I am a return offender and have done workshops several time and every time I walk away with beautiful images and an amazing experience. He is very knowledgeable and provides a relaxed and supportive atmosphere. The groups are the right size to get enough time to learn and ask questions. His passion for both photography and nature is infectious. Highly recommend him and hope to join more of his workshops.
Luke Maclean
Coorparoo, Qld
I recently spent a week on the Lamington Workshop and I can't recommend it enough. Everything was organised, to maximise our photographic time, whilst still leaving enough downtime to apprecaite where we were.
Michael is a pro when it comes to bird photography and I learnt more in that week, than I had in the last year. I came away with a greater appreciation of wildlife photography and more than enough skills (that I need to practice) to take great photos of birds.
I am only a few days back from my fifth workshop with Michael and all have been wonderful with plenty to satisfy everyone whether they like photographing birds or scenery or waterfalls, etc. Michael has always been helpful to me since my first workshop as a raw learner and always with a smile and good and sound advice. His knowledge and experience of photography and cameras is vast. The workshops I have joined have always been well researched and organised and the accommodation good and comfortable after a hard day. Most are five or six days long which is a very good length to me. I am now looking forward to joining Michael on several workshops over the next year and would recommend his workshops to everyone.
Sue Wilson
Ashburton, Victoria
Magic! Magic! Magic!! That's Lord Howe Island!. The trip with Michael this year exceeded expectations. The island itself is a paradise with beautiful beaches, bush to explore and coral and marine life to snorkel around. it was wonderful that Michael with his extensive expertise could help with special locations, assistance with camera settings, helping me make friends with my tripod!!, astrophotography, underwater photography, long exposures and much more. The group was amazing with many opportunities to chat, eat together whether out and about or in the gorgeous atmosphere of our accommodation. What a week! I am now looking forward to my next trip with Michael - an exciting expedition to the Sub- Antarctic where I can further my passion for bird photography. Thank you Michael!
Cathie Thomas
Everard Park, South Australia
What a great photography tour! Michael is well versed in leading a group of eager photographers. His patience and enthusiasm is inspirational. So willing to share his expertise and knowledge with all participants. Each day was made fun and interesting. Would definitely recommend to any budding or experienced photographers who are looking to have a fun and educational experience in wonderful locations. 10/10
Anita Brown
Mount Low, Qld
I got the opportunity to attend the 5 Day photo workshop of Kangaroo Island in October 2019. I had wanted to photograph on Kangaroo Island for some time and had heard many good reviews about Michael Snedic and his workshops. I was not disappointed and returned home after a very enjoyable workshop with amazing photos I had captured of the wildlife and landscape. Michael's workshop was very well researched and organised. He ensured we got to make the most out of our time and got to take advantage on any photographic opportunities. Michael is obviously a very knowledgeable and experienced photographer but still demonstrates his enthusiasm and passion for photography in sharing and teaching during his workshop with unfailing patience and a relaxed friendly manner. An excellent photo workshop and tutor, amazing destination and great group of like minded participants resulted in an experience I highly recommend. I can fully recommend Michael and WildNature Photo Expeditions for future photographic experiences.
Marylou Badeaux
Ferny Hills, Qld
I wanted to go to Africa on a photography workshop and did a fair bit of looking around. I liked the itinerary Michael Snedic's 'WildNature Photo Expeditions' offered, so I booked a spot. It turned into one of the best trips I've taken on many levels. In addition to great accommodation and locations, great care had been given to taking advantage of photographic opportunities everywhere. Most importantly, the ongoing help and tuition was superb. Michael was available at all times, helping with technical questions as well as creative challenges. His teaching method is easy to understand and couldn't have been more helpful. Not only did I come away with wonderful images (much thanks to him), but a much stronger understanding of the technical side of my camera. I've since gone on another workshop with Michael with the same great results.
Amanda Keyes
Brisbane, Qld
I have been on several WildNature photo expeditions and all have been very well organised well planned well . Pricing is also quite reasonable for the amount of tuition that you receive . I'm also happy that I don't have to worry about any of the minor details, that it's all taken care of. All I had to worry about was being ready on time. I would highly recommend WildNature photo expeditions to anyone who is wanting to learn new skills, or even improve on the skills they have already, with a very patient & knowledgeable professional. 5 stars I will continue to attend further workshops in the future to improve my skills.
Bruce Wilson
Lillydale, Victoria
I have been on a number of photo tours / workshops conducted by Michael. They have all been very well organised. He takes his group to very interesting places - some of. which I would never have known about on my own. His tuition and coaching are excellent. You can be assured of learning many new skills and techniques whatever your level of experience.
Di Van Cooten
Brisbane, Qld
Michael's workshops are THE BEST! He is so generous in the information / techniques that he shares and has helped me enormously to improve my photography skills.
Dinko Hristov
Brisbane, Qld
I've had the pleasure of meeting Michael when I did a photo walk with him in Brisbane a few years ago with a friend. Then later I had the pleasure of joining him on another photo walk at Ipswich. He is very helpful when I had questions, relating to how I could improve my craft. Can't recommend him high enough. Looking forward to his expeditions.
Julie Westley
Brisbane, Qld
I first met Michael many years ago at Binna Burra when he gave a presentation on his journey as a landscape photographer. I was hooked by his stunning images and his easy style. After following Michael through his newsletters and published articles for some time I have been able to participate in many of his workshops. Michael is a patient and knowledgeable teacher who easily shares his passion for nature and photography. Through Michael, I gained the confidence to move from the program settings on my Nikon D90 to manual and subsequently to upgrade to the D750. The limited number of participants involved in the workshops allows Michael to give individual time to each person to assist with image capture or the technical aspects of their equipment. Michael is always generous with his time and understands the budget and time limitations that many of us face when recommending the gear that will make a difference for us. I have also learnt from other workshop participants who bring a broad range of experiences and equipment with them. Michael has developed workshops for a number of Australian and international destinations that are on my bucket list. His workshops incorporate a broad range of activities to enhance the experiences in each location. I have no hesitation in recommending his workshops to photographers of all skill levels.
Sharon Smith
Redcliffe, Qld
I have had the pleasure of attending many of Michael's workshops, from short day trips, weekends to full overseas adventures. I started off with zero knowledge and can only say that if I had not have had these opportunities my photography would still be about fumbling with controls and missing the shots! I am no expert, but am now capable of producing images that I am proud of and use for competition. And all because I have had the privilege of learning through the expert tutoring that is provided on these workshops. From beginner and on wards, there is something for everyone, Michael's enthusiastic approach will build your confidence and knowledge. But it's not all about formal teaching, casual chats while walking, or over a glass of wine at dinner, it's a real escape for like minded people! It's the whole experience of travelling with a group and enjoying our passion. Sit back and let Michael open up the world of photographing Landscapes, Nature, Wildlife and the true beauty of this planet...it's all served up to you with all the questions answered, all the organising done, and the security of an expert at your side. Make new friends and feel truly blessed to be able to hold your camera in your hand and be out there!! Thanks Michael.
I have been on a couple of Michael's workshops and have loved them! Every time I go I not only learn something new but I get to form friendships with other like minded people. Michael's easy going and professional nature make it easy to learn and feel part of the group. I like that even though he is a Nikon man, he still has a vast array of knowledge on most popular camera brands on the market. I still remember my very first workshop with Michael up at the Bunya mountains. In fact one of my photos from that workshop won reserve champion at one of the local shows. Whether you are just starting out or just want to expand your knowledge, I would highly recommend one of Michaels workshops.
Karen Palmer
The Gap, Qld
I've had the pleasure of participating in many of Michael's Photography Workshops over several years. Over that time I've learned so much and increased my interest in varied photographic subjects from wildlife, to macro and landscape. It's been fantastic to meet new people and travel to places like Norfolk Island, O'Reilly's Rainforest Retreat, the Sunshine Coast and many others. Not only is it great to learn new skills, but sharing the delight of new places and experiences with other like minded people is a joy. I would highly recommend attending a workshop to anyone of whatever skill level as there is always something new to learn, somewhere new to explore and Michael is fantastic at making the experience inclusive and informative for anyone of any skill level. Thanks Michael!
Paul Etches
Karana Downs, Qld
I have had the pleasure of attending a number of workshops run by Michael from WildNature Photo Expeditions. Michael has a wealth of knowledge that he openly shares with everyone, always displays professionalism, courtesy and patience with everyone that is participating. His workshops are well planned and he caters for all levels of photographers. I would have no hesitation in recommending any of his workshops to my friends.
Michael was very generous in his advice and support in improving the photographic skills of the group members. He has a huge knowledge of wildlife photography and gave each member one-on-one time. It was obvious how much thought had gone in to giving us an unforgettable workshop on Macro and Wildlife. Well worth an interstate trip for a unique and informative experience.
Cathie Howie
Brisbane, Qld
I have had the pleasure of meeting Micheal and attending a variety of his workshops now. With his strong passion of wildlife and passion for teaching photography, my own interest have been built on with his wealth of knowledge. I look forward to attending more workshops in the future and meeting like-minded people along the way.
I have been on many of Michael's Australian macro and nature based workshops (and currently have more booked) . Michael shares his passion for nature and mastery of photography generously. You could not find a more patient, knowledgeable and kind tutor to help you along your way to achieving your goals.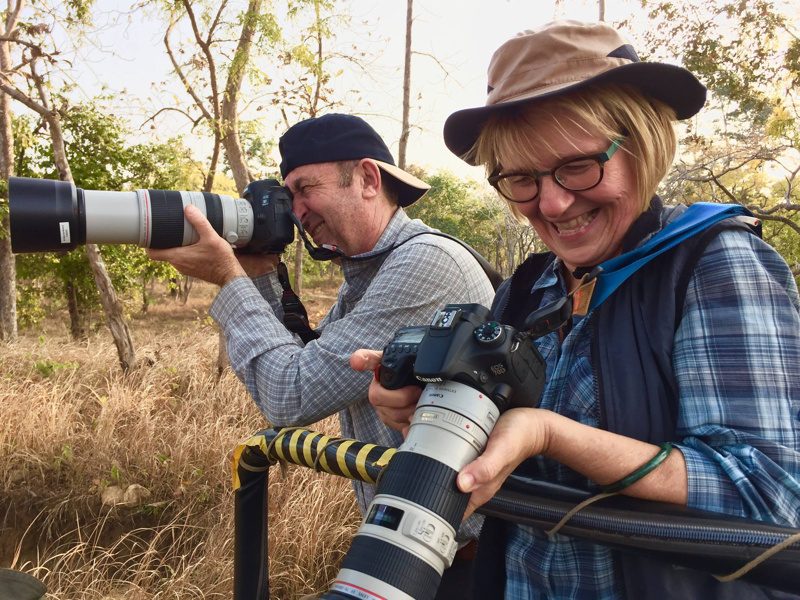 Martin and Paulin Oldfield
Ipswich, Qld
India was never on our bucket list. We had heard the stories. Delhi belly, dirty and noisy, crowded, smog, third world place, dangerous, unfriendly people…. Everyone had a horror story. We saw this trip advertised by Michael Snedic. We had experienced Michael's photo expeditions and photography tuition in Svalbard (Arctic) and enjoyed it so much that we promised ourselves that we would go on another of his tours one day. We liked game drives in Africa chasing the big 5. India has the big 6 (same 5 plus tiger) – who knew that??? We had never seen the leopard. It had never been on our bucket list. We believed the stories. We spoke to Michael and then Reena from Mantra Wild Adventures. We decided …. what the heck! It is only for 2 weeks and we can put up with just about anything for 2 weeks. Let's just not extend our stay. The stories had us a bit worried. Good luck with all of that the story tellers told us. It was never on our bucket list. It should have been. The stories were wrong. The National Parks were amazing! We were told that Indian animals are more elusive than African animals. And they were. The leopard that had eluded us for many years (I think about 17 game drives in Africa and India) remained …….. elusive. Until that wonderful moment in Pench when we were treated to a 9 minute sighting. The wait was worth it. What joy! What an amazing creature. And now for that iconic cat – the Bengal tiger. Our excellent guides tracked their footprints, we heard the alarm calls, we smelt their kill, we drove for hours in the beautiful jungle. We were rewarded with a brief view but it was worth it!!! It is hard to explain just how much you learn with a true photography expert, Michael Snedic, on call 24/7. And not just with the technical bits, but how to better appreciate lighting, composition and much more. Evening chats about Lightroom techniques and photo editing in conjunction with critiquing of the days shots, were very helpful. And the fun we had! We really like that Michael's photo expeditions are designed around photography rather than trying to pack in a whole lot of typically touristy stuff and having a very busy itinerary. Three nights at each location is a great way to settle in and get the feeling of the location. By the way – we did see our first leopard, and a tiger, and a whole bunch of other animals. If you are a keen photographer, do yourself a favour and put India on your bucket list. Even better, put a WildNature Photos Expedition with Michael on your bucket list.
Diane Cowley
Brisbane, Qld
Antarctica has always been my dream… it's the one on the bucket list that you feel it may never happen and when it does you hope the reality it as good as the dream. It was!! I have been on photo workshops with Michael before (macro, bird, whale watching), and by chance saw the Antarctica January 2016 trip listed. I contacted Michael and the gods were on my side, I fluked a cancellation spot. During the planning both Michael and David Burren were very helpful. Prior to leaving Australia I was emailed information regarding clothes and useful camera equipment hints. This information was a great help given the zero summer temperatures in Antarctica and the unknown locations. Remember Penguins don't go shopping, so no shops means you need to take all your equipment with you. The biggest hint is a wet weather camera bag for travelling off ship. On board the ship Ocean Diamond, Michael and David conducted workshops and the group were encouraged and made to feel we could ask any question. The twice daily Zodiac trips off the ship were made easier when Michael and David organised with the ship staff to get the best for the group. When in Antarctica you are in awe of the pristine scenery, the peace, and each day is different because you are subject to the weather. The Captain and crew are wonderful at trying to give you the best locations to maximise the most of what Antarctica has to offer. Even with ice blocking the ships intended route an alternate route found us in amazing scenery. We were even lucky with falling snow, which added to the photographs even though you got wet, spectacular icebergs, ice capped mountains, amazing wildlife, birds, penguins and humpback whales. So go on… talk to Michael and plan your photographic trip.
Annette Balnaves "Balnaves at Coonawarra'
Coonawarra, Sth Australia
In January 2016 my husband & I were extremely fortunate to be able to join a photographic group organised by Wildlife Photographer/Tutor/Writer Michael Snedic & fellow Wildlife Photographer/Tutor David Burren to sail on the Ocean Diamond to the Antarctic. There is no doubt that this was a voyage of a lifetime, & was a very well organised one. We were fortunate that the crossing of Drakes Passage from South America to the Antarctic was a relatively mild event & once we crossed the Antarctic Circle we were treated to an unforgettable experience. No amount of research could have prepared us for the sheer beauty of the icebergs, large & small some with streaks of the deepest blue imaginable. Nor could any of the wildlife documentaries have prepared us for the wonder of the penguin colonies, the awe of the Humpback Whales surfacing a few metres from the Zodiacs we were travelling in, or the drifting through sea ice to within a few meters of seals sunning themselves on icebergs. Or to be able to see & film a Leopard seal making an enjoyable meal of an unfortunate penguin, the graceful gliding of Albatrosses on the wing & to be able to photograph all of this. Through all these unforgettable experiences Michael & David were on hand to pass on their expert guidance, advice & encouragement, with patience, when it came to lenses, F stops, ISO, camera handling etc.,as well as the back-up photo techniques talks on board. Thank you so much for the opportunity & help.
Lisa Miller
Capalaba. Qld
I had a wonderful experience on my whale photography workshop with Michael. It was well organised, and Michael was the perfect tutor. Communication was great, he was very patient and I received my money's worth. I will definitely be back!!!!
Paul Browning
North Sydney, NSW
I have been an avid nature photographer for over twenty five years, not a professional but a keen amateur. Over that time, I have attended quite a number of photography trips across Australia and some overseas, with some poor experiences among them. I met Michael Snedic a few years ago on his Lord Howe Island tour and from the minute I met him, I realised I had finally found the right person and photography trip to join. Michael is, without doubt, one of the most passionate people I have ever met. His enthusiasms is infectious and he is very inspirational. What Michael doesn't know about photography, especially wildlife and nature, is not worth knowing. He is very patient and has no problem going over technique that took me (and others) a few goes to grasp. He is always there to lend advice and makes sure each and every person is doing okay with their cameras and photography techniques. I can say, without exception, that I and the other workshop attendees received lots of photography tuition, more than on ANY other photo trip I have ever attended. The itinerary was also perfectly balanced, with a mix of photographing in wonderful locations, with a bit of free time thrown in. I have since been on more photo trips with Michael and I can say, without hesitation, that I always come back with a huge grin, better equipped to take photos and lots of great photos on my hard drive. My biggest problem is to choose what trip I will do with Michael next! I can highly recommend Michael Snedic's photography trips over any others out there on the market today. You will not be disappointed.
What's the ranking of Antarctica on your bucket list? It was top on mine. Pushed by my wife who did not mind me going alone to freeze my butts I decided to join an expedition organised by 2 professional photographers, David Burren and Michael Snedic (that I met at a photo club) and 17 other amateur photographers. And boy was I right to do so!!! The very friendly atmosphere and comfort of a beautiful ship with skilled and safety conscious staff made the experience unforgettable. From our Quark Expeditions cruise start in Ushuaia to our return 13 days after, it's been non-stop amazement at glaciers, icebergs, penguins, seals, whales, seabirds… in our daily zodiac excursions and landings which even drove us past the Antarctic circle. The light conditions, the blues of the ice, the midnight sunsets were so extreme and diverse that we needed lots of advices and that's where Michael and David kicked in brilliantly giving us with remarkable dedication relentless group sessions and personal tuition. I learnt more on photography in these 2 weeks than in many years before, turning from a shy 'automatic' photographer to a more adventurous 'manual' photographer. I can't wait to go back with Michael and David in another photographic expedition and adventure.
Joan Cheeseman
Brisbane. Qld
Wow! What a destination. We have just returned from paradise. With the very able assistance of both Michael and David who guided us on this journey we experienced daily interactions with birds, penguins, seals, whales, icebergs, and incredible scenery. The company of other photographers meant we had two zodiacs to ourselves and had time to explore, time to stop and interact with the wildlife, and time to take photos. I would recommend this trip to anyone who has an interest in photography and I am already looking at visiting the Arctic in the near future.
Pamela Handyside
Captains Flat. NSW
As a keen photographer I have attended many different workshops in great locations, but when Michael told me about his one-on-one tuition I signed up on the spot, without hesitation. Michael is an outstanding photographer and an easy-going, patient and generous teacher – a rare combination. He is passionate about photography and is totally dedicated to passing on his knowledge, skills and expertise. I was not disappointed with the day – it was a great success and so very rewarding. All of my questions were answered in detail and I learnt new skills and techniques that I have never tried before. Thank you Michael for taking my photography to a higher level and giving me the encouragement and a renewed confidence in my images. To anyone who wants to improve their photos and skills or be challenged, jump in and expect the best – that is what you get. Highly recommended.
John Stille
Beaudesert, Qld
May I take a brief moment and say how much I benefited from your time with me recently. I have been dabbling in photography for a few years and was beginning to get frustrated with my inability to "get a decent print". Starting with camera controls and moving on to advanced aspects has been very helpful. It may seem a simple thing but often "what that button/setting does" is overlooked/forgotten. Your enthusiasm for photography coupled with your effervescent attitude inspires one to push on and discover more. Thanks again.