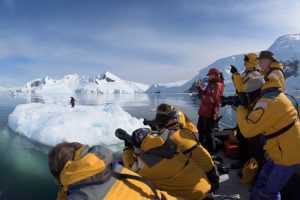 WildNature Photo Expeditions was founded by Michael Snedic, a renowned Australian-based wildlife and nature photographer, writer, lecturer, international photography competition judge and photography workshop tutor. Michael has presented hundreds of photography tours and workshops around Australia and overseas over the past 20 years, to thousands of workshop participants. He started Trekabout Photography Workshops, which he ran for ten years with Mark Rayner. As a result, Michael knows what customers want!
Through WildNature Photo Expeditions, Michael offers photography workshops and tours seeking the most amazing wildlife and wilderness subjects and locations, coupled with expert photography tuition. WildNature Photo Travel locations and subjects we visit and photograph are chosen with photography in mind, so our customers get the best possible photo opportunities. Add to this the affordable pricing structure and it's easy to see why Michael Snedic's WildNature Photo Expeditions photography workshops, courses, tours and safaris are one of Australia's premier photography tour businesses. The number of customers who return to do multiple workshops is very high!
        Please note: Michael Snedic is not associated with Mark Rayner and Trekbout Photography Workshops 
Learn How To Take Better Photos
All levels of photographic experience are catered for, from complete beginners to the more advanced photographer, with one-on-one time with participants a part of every photography workshop and tour. Apart from visiting the best photographic locations and subjects, the tuition provided allows each participant the chance to greatly improve their photographic skills. Partners are also catered for on longer photography workshops and tours.
Michael prides himself on giving the best possible experience he can provide for customers, ensuring they learn new photographic tips and techniques, while at the same time enjoying the experience. His customer service skills are unsurpassed.
About Michael Snedic
Professional photographer and tutor, and founder of WildNature Photo Expeditions, Michael Snedic has had a passion for the natural world since he was very young. It was inevitable that he would end up photographing wildlife and nature, which he has done now for twenty years. He is one of Australia's most accomplished and published nature photographers, with his images having won numerous awards. His images have been published across Australia, and the world, in hundreds of publications. Michael has also written over sixty magazine articles on nature/photography, since 2001, including Australian Geographic, Wildlife Australia, Birdlife Australia, the UK's BBC Wildlife and Australian Photography (Australia's largest-selling photography magazine) which he has been a feature writer for since 2006.
Michael is a sought-after speaker on the photography Photography Club and Convention Circuit (including being Keynote Speaker at the PSQ Photo Convention in Mackay, Queensland), something he enjoys greatly. He is honoured to be a Nikon School tutor for Australia and is proficient with all camera makes and models.
Since 2002, Michael has presented hundreds of photographic courses, workshops and tours across Australia and overseas. Michael regularly receives comments regarding his passion and enthusiasm towards his workshop participants, no matter whether they are a complete beginner or more advanced photographer. He is a very patient tutor and extremely knowledgeable in the art of digital photography.
You can read a recent feature about Michael's photographic career so far: 'Capturing the Moment' - Creative Artist Magazine , January 2016.