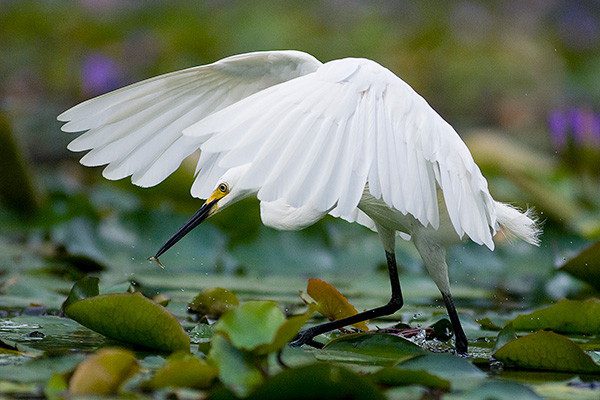 Little Egret fishing
With Wildlife Photographer Michael Snedic and Birding Guide Barry Davies
TBA
A video, showing just some of the birds photographed by participants
during our Bowra Birding and Bird Photography workshop
Michael Snedic, one of Australia's most accomplished wildlife photographers and tutors, has teamed up with Barry Davies, a highly respected and experienced Birding Guide, to present an 8 day birding and bird photography workshop, 'out west'. In this workshop, Barry's immense birding experience will help participants find and identify numerous species of birds by studying their behavior, habits and habitat. Michael's experience as a leading bird/wildlife photographer and tutor will also be utilized to help you improve your bird photography, including tuition on birds in flight, composition, lighting and correct exposure, focal points and much more. The majority of the trip will be spent at one of Australia's birding hotspots, Bowra Sanctuary, near Cunnamulla, Queensland, where there are lots of different habitats, and therefore birds, to locate and photograph. Below is some information on Bowra Sanctuary, courtesy of the Australian Wildlife Conservancy website:
Location
Bowra is located near Cunnamulla in southern Queensland. It is in a high priority bioregion: the Mulga Bioregion has less than 5% reservation level.
Ecosystems
Bowra protects 15 regional ecosystems, none of which occur on other AWC properties:
six of these broad ecosystem types are listed as threatened.
five of the ecosystems are not found in any national parks, while another seven are poorly protected in national parks.
The condition of Bowra is very good. There is a fine-scale mosaic of habitat types, with good structural complexity, thus supporting a diversity of wildlife.
Features of Bowra include
Mulga communities, often mixed with Poplar Box and bloodwoods, dominating the low scarp and elevated ridges in the northern section of the property.
The southern section of Bowra comprises mainly alluvial plains decorated by gidgee and Coolabah open woodlands. Low sand ridges rise marginally above the plains, hosting Cypress Pine and more bloodwood and Poplar Box.
Majestic River Red Gums guard the length of Gumholes Creek, the property's major watercourse. Permanent, deep waterholes are a feature of this creek. Bowra lies within the catchment of both the Warrego and Paroo Rivers, two of the most biologically significant rivers within the Murray-Darling basin.
Bowra hosts numerous other wetlands ranging from Bluebush swamps to gilgais and other smaller swamps.
Itinerary
| | |
| --- | --- |
| Day 1 | Brisbane to St George (510km): 7.30 am departure from arranged point. Travel by 4WD with occasional stops along the way; lunch break at Lake Broadwater near Dalby. We will be going out for dinner at St George and we will be also staying overnight at St.George, on the Balonne River.(L) Accommodation: Pelican Park Caravan Park Cabins |
| Day 2 | St George to Cunnamulla (310 km): 7.00 am start. Some birding and photography along the way, with lunch at Bowra. Bowra Sanctuary is a 40,000 hectare former grazing property just west of Cunnamulla. After settling in, Michael will introduce the art of bird photography beside the waterhole.Evening session: Audio-visual on identifying birds and bird calls with Barry.(B, L, D) Accommodation: Bowra shearers' quarters. |
| Day 3 | Bowra Sanctuary: Morning - Finding and identifying birds in the field, with Barry. Michael will then show you how to get the best photos. We will walk from our base and head to various spots around Bowra Sanctuary.Afternoon – Michael will present a session on how to get the best shots of birds in flight. This will be at the Wier in Cunnamulla. Evening – Audio-visual on bird photography with Michael(B, L, D) |
| Day 4 | Bowra Sanctuary: Morning – Stony Mulga country, Bowra's ultimate birding/photography challenge. Find and identify the most iconic birds, Hall's Babbler and the Chestnut-breasted Quail-thrush, as well as any other birds found.Afternoon – Getting in close, using bird hides and camouflage to get the best possible pictures. Theory and practice.Pre-sunset - Some landscape photography tuition by Michael at the lagoon right near our base. Evening – Free time to relax and unwind(B, L, D) |
| Day 5 | Bowra: Morning – Visit some of Bowra's waterholes and other habitats with Michael and Barry, for more birding and photographic opportunities. Afternoon – Free time to go and practice your bird photography. Alternatively, have a rest.(B, L, D) |
| Day 6 | Bowra: Morning – Head out to different parts of Bowra Station with Barry, to search for different species we haven't seen and photographed yet. Afternoon – Questions and Answers – the opportunity to ask more questions about bird photographic techniques (Michael) followed by a field session (Michael and Barry). Evening – A review of some of the participant's best bird images of the week with Michael(B, L, D) |
| Day 7 | Bowra to Goondiwindi (500 km): 8.00 am start. We head east with a lunch stop at Bollon with various birding stops along the way.(B, L) Accommodation: Goondiwindi Tourist Park cabins. |
| Day 8 | Goondiwindi to Brisbane (420 km): 7.30 am start. We travel back to Brisbane via Inglewood and Warwick, where we will have lunch, visiting some bird watching areas including Coolmunda Dam and Durakai State Forest, before crossing the Great Divide to head into Brisbane late afternoon.(B) Accommodation: Own arrangements. |
What is included
Travel in air-conditioned 4WD vehicles with driver/guide plus 4 passengers in each vehicle. Tour cost covers twin or share accommodation, which is budget style. The Bowra shearers' quarters are quite basic with outside bathroom and toilet. Meals provided as part of the package are shown in the itinerary by B, L or D. Dinner on the way out and coming back home and lunch on the last day will be your responsibility and will be at places where cafés, restaurants or roadhouses are available. (NB - some changes to the itinerary may be necessary because of possible conditions prevailing at the time).
The weather
The weather at night and early morning can be cold with temperatures around zero and the days will be mostly warm and sunny. Good hiking boots and long trousers and a hat are essential. Sunscreen cream is also recommended. Insect repellent is also advisable
Inclusions
All travel (we will be driving there and back in air-conditioned 4-wheel drive vehicles)
Accommodation – Quite basic but clean and comfortable (combination of hotel, tourist park and shearers' quarters at Bowra)
All meals (except where indicated)
Expert birding and photography tuition from Barry and Michael
Various audio-visuals including review of images taken throughout the tour
For more information on this workshop or to make a booking:
Please contact Michael using the contact form or phone +61 408 941 965
WildNature COVID 19 Cancellation Policy:
In the event of the cancellation of the 8 day Bowra bird photography workshop, or you are unable to travel to the state of the workshop or tour due to Government-imposed travel restrictions, specifically due to COVID 19, you will be eligible for the following:
A full refund, less any cancellation fees incurred by the operator from the tour accommodation and activity suppliers.