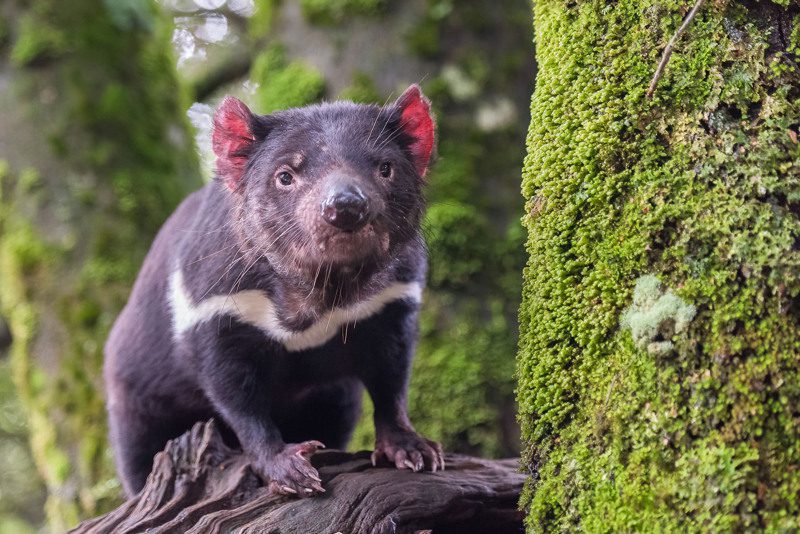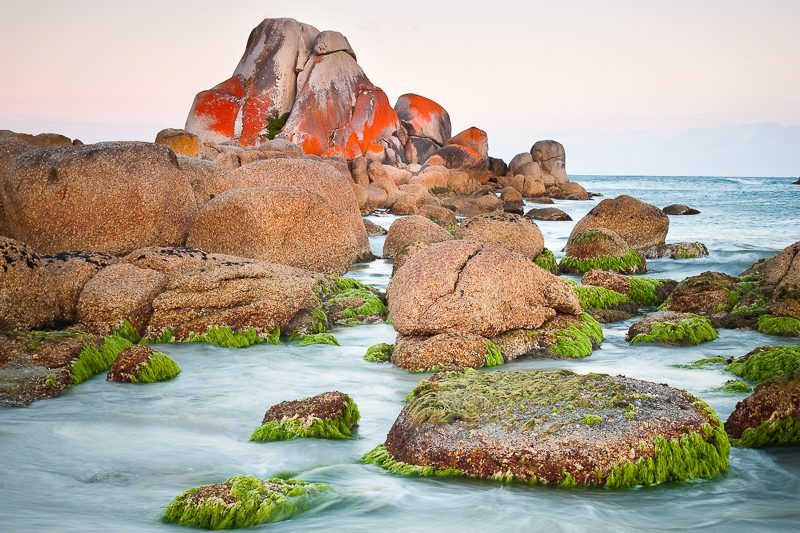 Text and images by Australian wildlife and nature photographer, Michael Snedic (April 2023)
Tasmania is an island state situated 240 km south of the Australian mainland and separated by the Bass Strait. Its landscapes are incredibly photogenic and range across rugged and diverse terrain including alpine heathlands, dry midlands, evergreen eucalypt forests, cool temperate rainforests, and so much more. There is a large array of wildlife found in Tasmania. Mammal types include various species of kangaroos and wallabies, bats, wombats, possums, platypus, echidnas, quolls, as well as the iconic (and endangered) Tasmanian devil. The island also has a wide assortment of bird species, reptiles and frogs. Some of the rarer bird species which bird photographers often seek to photograph include the endangered Orange-bellied parrot, the Swift parrot, the Forty-spotted pardalote and the Shy albatross. Regarding reptiles, there are 18 different species found here, including the She-oak, Delicate and White's skinks. Frog species number 11, with species such as the Green and Gold, Eastern Banjo and Striped Marsh frogs found on this island state.
Tasmania is also a great location to photograph auroras (Aurora Australis), and they can appear at any time of the year. I have photographed auroras in Freycinet (from Coles Bay looking across to The Hazards) as well as Cradle Mountain, but they can appear almost anywhere across the state. Due to Tasmania's closeness to the south magnetic pole towards Antarctica, Aurora Australis is often visible.
Basically, Tasmania is a photographer's heaven!
Travelling to Tasmania
To get to Tasmania, you can fly to places such as Hobart or Launceston. If you are on the mainland and have a vehicle, you can drive it on to the 'Spirit of Tasmania' ferry from Victoria across the Bass Strait.
As far as travelling around Tasmania is concerned, by far the easiest way is to hire a vehicle (either a car or a campervan). That way, you can travel wherever you want and stay in locations as long as you need. I have personally hired a campervan a number of times and this has given me plenty of flexibility. You can also join one of many organised tours on offer in the state, but unless it's a photography-specific tour, your photographic options are usually limited, and a tad rushed.
Suggested Locations
1. Cradle Mountain
One of my personal favourite locations, where I have travelled with my camera and presented photography tours numerous times over many years, is the Cradle Mountain region. Cradle Mountain itself is situated in the central highlands region of Tasmania, within the Cradle Mountain-Lake St Clair National Park and rises 1,545 metres above sea level. Apart from incredible landscape opportunities (especially of the mountain itself at sunrise and sunset), there are plenty of stunning rainforests and waterfalls to be found in the region. Two waterfalls within easy reach are Knyvet and Pencil Pine, both of which are accessible by walking 5 minutes along a short boardwalk from the carpark area in front of Cradle Mountain Lodge. As far as wildlife opportunities go, you really are spoilt for choice! Echidnas frequent area, wallabies are quite common and around sunset and in the evenings you will sometimes see tiger quolls, which are carnivorous marsupials. Wombats are also common towards sunset around Ronny Creek. They are used to people, and you can generally get quite close to them with your camera.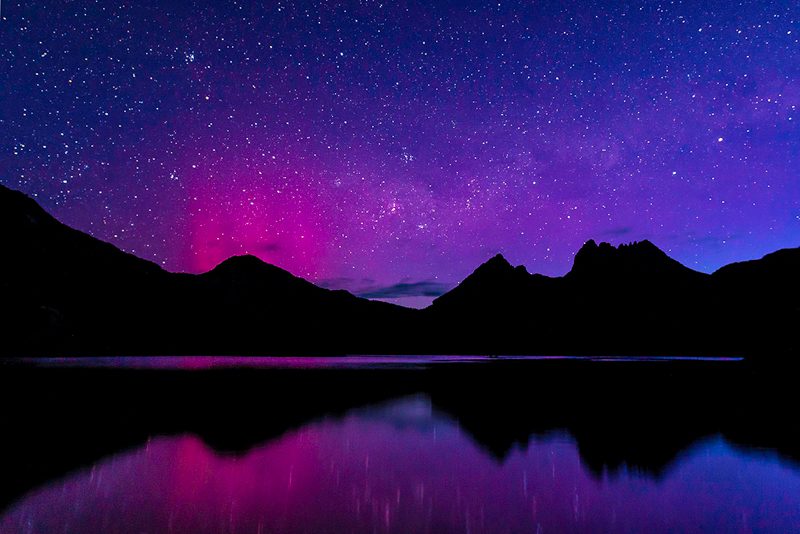 2. Tarkine/Takayna
The Tarkine region (also known by its indigenous name Takayna), in northwest Tasmania, is a much quieter and less well-known area and features incredibly beautiful landscapes. It contains high-quality wilderness as well as large tracts of rare, cool temperate rainforest  It also has eucalypt forest, dry sclerophyll, buttongrass,, woodlands, wetlands and grasslands, to name but some. For wildlife, the Tarkine is home to 28 terrestrial mammals, 111 birds, 11 reptiles, 8 frogs and 13 freshwater fish. One of the best areas to stay and visit is the small town of Corrina, situated right on the banks of the Pieman River. This small village offers cabin accommodation, campsites and meals (not offered in the off season). Corrina Homestead also offers two different boat trips – the Pieman River and Sweetwater cruise. Both cruises are worth doing and make for some unique photography experiences in Tasmania.
3. Freycinet
Freycinet, situated on the east coast of Tasmania, is a very popular tourist destination and for good reason. It features a peninsula defined by Schouten Island and a stunning mountain range known as the Hazards.
There are plenty of locations in Freycinet National Park worth visiting with your camera, the most popular being a hike which leads to a lookout that overlooks stunning Wineglass Bay. This hike is all uphill so a decent level of fitness is required. Another popular location is Cape Tourville Lighthouse, where you drive up a windy road to the carpark area and then walk along a boardwalk to reveal stunning views below! Other locations worth taking your camera to include Sleepy Bay and Honeymoon Bay, both of which are easily accessible by parking in the designated carparks and hiking along well-signed trails. Apart from an assortment of mammals to photograph, there are plenty of birds to along the shorelines, including species such as Pacific Gulls, Pied Oystercatchers, White-bellied Sea Eagles and Red-capped Plovers. The range of beautiful landscapes and wildlife are one of the reasons I run photography tours to Freycinet National Park and surrounds.
4. The Bay of Fires
Travelling north from Freycinet and still on the east coast of Tasmania is the region known as the Bay of Fires. Here you will find an incredible 50km coastline laden with massive granite boulders covered in orange lichen, snow-white sandy beaches and turquoise-coloured water. Destinations well worth visiting with your camera include Binalong Bay, Mount William National Park, (including the very photogenic Picnic Rocks) and Eddystone Lighthouse. There are loads of bird species here too, similar to the Freycinet region.
5. Mt Field National Park
Another area that is popular with photographers is Mt Field National Park, which is only a one-and-a-half-hour drive from Tasmania's capital, Hobart. Highlights include two majestic waterfalls – Russell and Horseshoe Falls. Both falls can be accessed very easily with a short hike from the Parks and Wildlife Service Information Centre, at the entrance to the national park. It is important to note that Tasmanian Parks and Wildlife permits MUST be purchased at the information centre prior to you visiting each of the falls. Another popular location is Tarn Shelf. By driving 16kms from the information centre, you end up at Lake Dobson carpark. You can then do a 12km hike known as the Tarn Shelf Circuit. This walk includes a number of glacial lakes and is very colourful in autumn when the deciduous beech trees turn a rich yellow colour.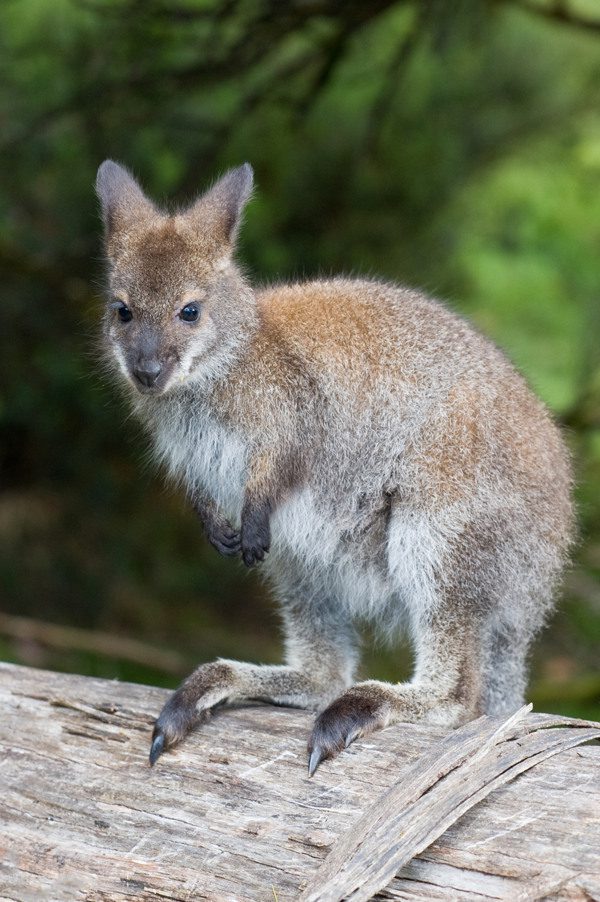 Best time of the year
As far as the best time of the year to travel to Tasmania, it depends on where you decide to go. Each season has its benefits. For areas such as Cradle Mountain, I suggest visiting in April/May. At the end of April and early May, the deciduous leaves of the Beech trees (Nothofagus) change colour and make for stunning landscape shots. The cooler months in this region (if/when it snows) also make for some great snow-covered mountain shots. On the east coast, in the areas mentioned including Freycinet and the Bay of Fires, I favour visiting in winter or spring, although most of the year can be quite decent to visit and photograph. The temperature is generally cooler and the forests quite lush. For the Tarkine region and Mt Field National Park, anytime of the year is fine to visit and photograph.
Top Tips for Nature Photography in Tasmania
1. Look for Diffused Light
The light can be very harsh in places such as Freycinet and the Bay of Fires, so when photographing seascapes, I prefer shooting at either sunrise or sunset. Subtle light wins over harsh, daytime light anytime!
When taking photos of waterfalls such as Russell and Horseshoe in Mt Field National Park, in the stunning rainforests at Cradle Mountain or forests in the Tarkine region, overcast days are always best. Clouds act as 'nature's diffuser' and help reduce harsh shadows that sunny days can produce. To achieve smooth, milky waves crashing over rocks or onto the sand or cascading waterfall, using a neutral density (ND) filter with a sturdy tripod and a remote or cable release (or using an App on your phone that's paired to your camera) is the best way to stabilise your camera/lens combo. This reduces the chance of blurry images quite well. You can also use a circular polarising filter (CPL) to slow down the camera's shutter speed by 1.5 to 2 stops, reduce glare created from water as well as saturating the image slightly.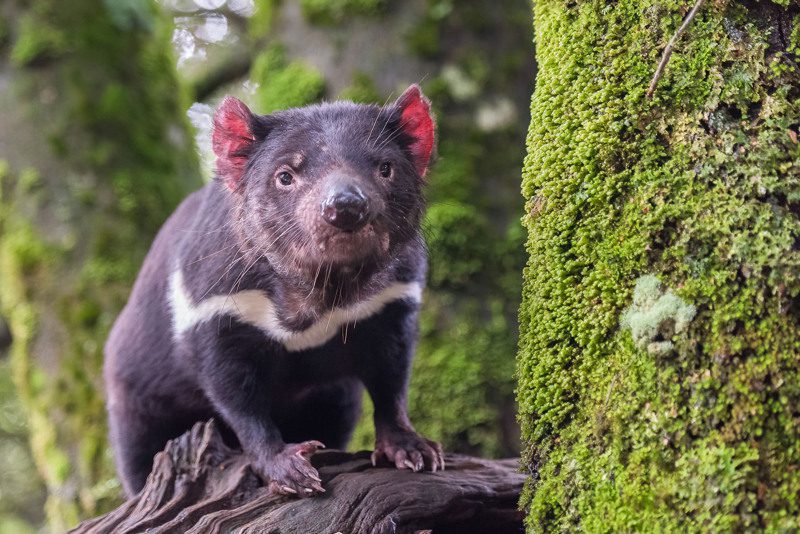 2. Bring a Long Lens
For photographing wildlife in locations such as Cradle Mountain, using a zoom lens with a decent focal length is best. I would certainly recommend a minimum focal length of around 400mm (or higher). Even though some of the wildlife such as wombats are quite relaxed and used to people approaching them fairly close, the longer focal-length lenses are needed for the more skittish species such as Tiger quolls or the popular Pink robin. The further away you are physically, the less the animal is disturbed and displays more natural behaviour. Wildlife species such as wombats, Bennett's wallabies and echidnas (one of only two monotremes or egg-laying mammals in the world) are more active early in the morning or later in the day. The wider the minimum aperture your lens allows the better, as you are letting in more light and therefore increasing the camera's shutter speed. The faster shutter speed minimises blur when handholding your gear. A monopod, with a monopod head, is another way of stabilising a heavy camera/lens combo.
For subjects such as wombats, Tasmanian devils or echidnas, which live on the ground, getting down to the animal's eye level makes for more pleasing shots. With the Tasmanian devil, sightings are quite rare nowadays, due to a spread of facial tumours which drastically wiped the populations of these unique mammals. You may, however, be fortunate and see them at dusk and in the evening.
3. Use Fast Shutter Speeds
If you are planning to capture flying shots of bird species such as the Pacific Gull, the Wedge-tailed Eagle or the Green Rosella I suggest using continuous focus mode (AI Servo for Canon users) to help track your animal as its moving, coupled with 'burst' mode. Many mirrorless cameras have eye tracking capabilities nowadays which make tracking moving animals so much easier. To freeze your subject, you need to use a decent shutter speed (I recommend at least 1500th to 2000th of a second), especially for fast flying birds. The faster the better! If your subject is still and you are wanting to take a few portrait shots, then you don't need a high shutter speed.
The main points to remember are to focus on the animal's eye(s), leave room in the direction it is facing (if facing left or right and not looking directly at you) and watch for distractions in the background.
In conclusion
Tasmania has recorded the cleanest air in the world, is covered in incredible scenery and has many unique wildlife species. If you do decide to take a trip to this incredibly rich and diverse island with your camera, you will not be disappointed!
To view Michael's photography, website, please visit:
www.michaelsnedic.com
If you have a passion for wildlife, nature or travel photography and would love to go on a small-number, professional photography adventure, please get in touch with Michael Snedic at WildNature Photo Expeditions. You can call him on 0408 941 965 or fill in this Contact Form and he will get back to you ASAP.